Friends of Stanley Park and Salisbury Woodland, Blackpool
Easter 2014 - The Merry Wives of Windsor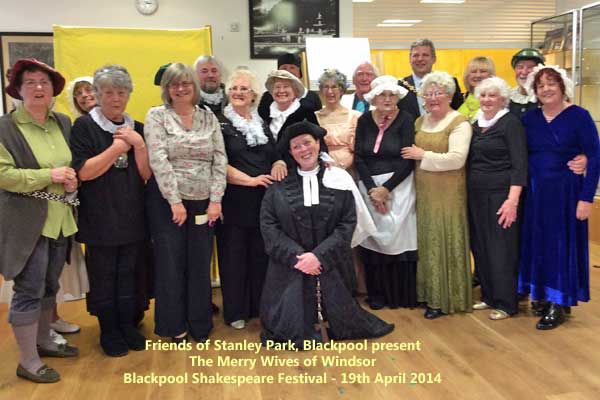 Blackpool & The Fylde Coast Shakespeare Festival, 23rd to 26th April 2014
Easter Saturday 19th April 2014 in the Visitor Centre on Stanley Park, Blackpool.
The Friends of Stanley Park played to a packed Visitor Centre for their first ever production - William Shakespeare's The Merry Wives of Windsor. Great choice! Their contribution to the Fylde Coast Shakespeare Festival with proceeds to the Mayor's Charity.
A huge thanks to everyone who came and filled all the seats and stood round the edges, an audience of some 100. Including the Mayor of Blackpool, Councillor Eddie Collett and The Deputy Mayor, Councillor David Owen who has championed the festival.
Much time has been spent rehearsing, creating costumes, designing props and experimenting with various devices. The town of Windsor was re-created with a few blankets and street signs. The stage was carefully measured to ensure any actors didn't fall into the audience and vice versa.
They also baked cakes, served tea, organised a big expansion in the seating in the room with 60 seats. Not enough it seemed with some 40 standing, and set up a display of Winter Gardens information.
So come the hour come the show. Some of us had a touch of stage nerves but in the end we had so much fun and the audience responded so well and laughed at the right time, which was a relief. So we thank all who took part and hope you all enjoyed it as much as we did and the Mayor's Charity got a good contribution.
We've been busy this weekend click here to also see our Easter Fair hoot.
Credits
Original Play by William Shakespeare, Adaptation by Zoe Lamond of Blackpool Library Service, Stage Directions, Nic Fogg. Directed by Elaine Smith.
Cast in order of appearance;
Narrator, Elaine Smith. Sir Hugh Evans, Sarah Carmichael. Dr Caius, Martin Woodcock. Master Ford, Nic Fogg. Mistress Ford, Pat Fogg. Master Page, Hilary Booth. Mistress Page, Val Hargreaves. Miss Anne Page, Janet Latham. Slender, Cath Woodcock. Fenton, Shirley Jackson. Mistress Quickly, Loraine Calvert. Sir John Falstaff, Barrie Walsh. Servants, Jean Mildren, Betty Bradford.
Stage Manager, Joan Cochrane. Musical Director, June Parr. Backstage, Billy Ball, Duncan McGowan, Wynn Booker.

The Cast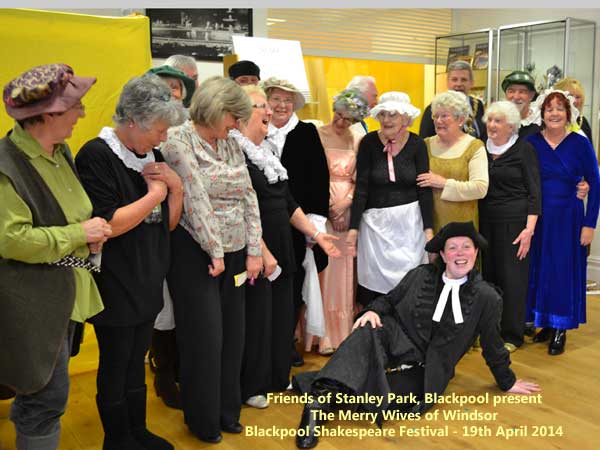 The Cast with Councillor Owen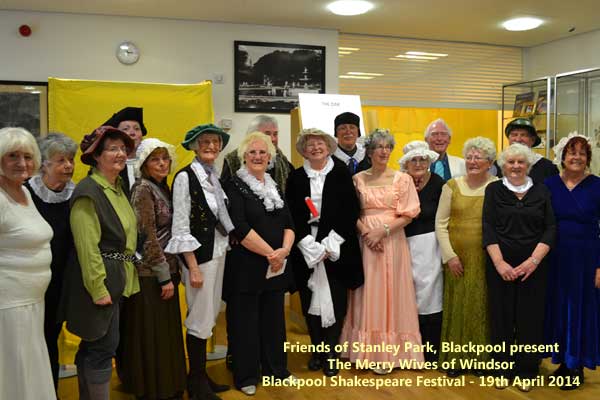 Of course we read the script with a sign behind describing the scene. Otherwise this is pure RADA quality.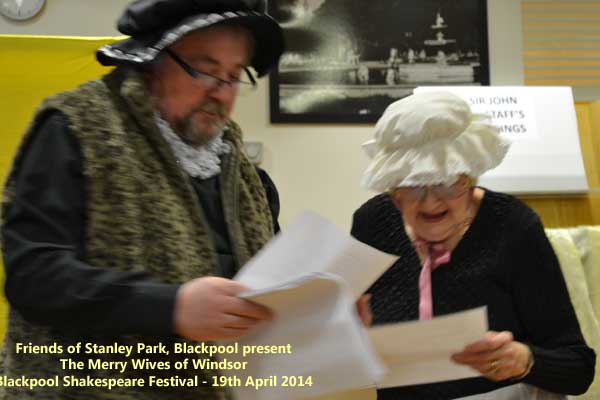 Falstaff was beset by Wives with Wings. No wonder he looks browbeaten.

A vicious looking sword with a neat touch of stagecraft.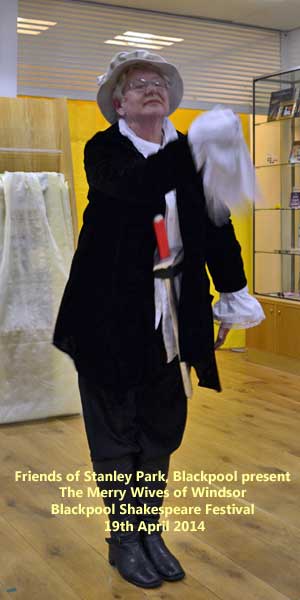 Ladies of Windsor, what are they saying, I recognise that Windsor Street.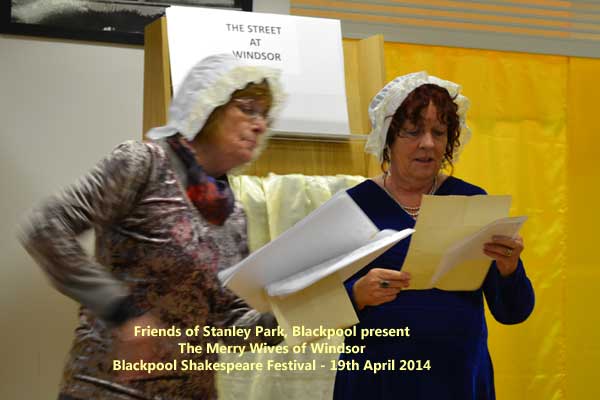 This looks seriously like action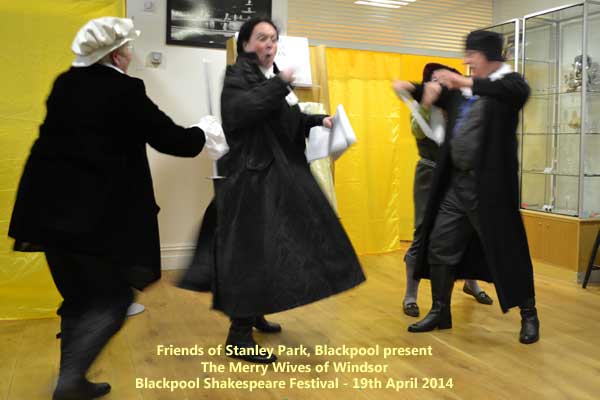 A fine piece of acting outside the House of Dr Caius. No doubt the feather duster wasn't from Nutty Ash.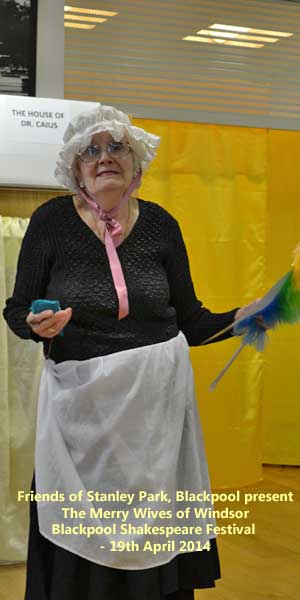 This looks touching, tears are welling. Is it Glenda Jackson? No it's the director, narrator, introduction and thankyou, Elaine, Chairman of the Friends of Stanley Park.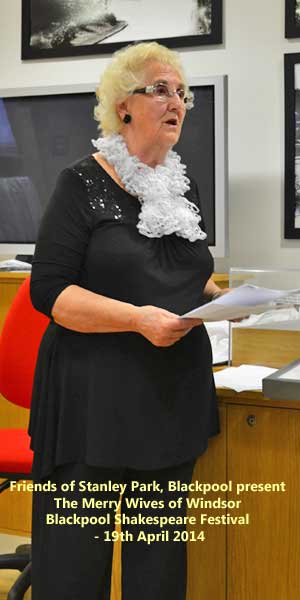 Well done to all and thanks to the audience, with the Mayor, Councillor Collett and Deputy Mayor, Councillor Owen.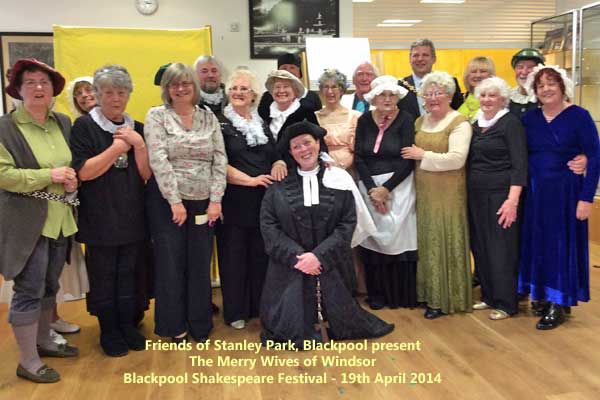 Updated: 11 September, 2021